Extrication class

On August 18, 2001 Bumper to Bumper Auto Salvage allowed us to cut up some of the cars on their lot and even had a small bus waiting for us. So, we invited all the county First Responders, other rescue companies, and EMS.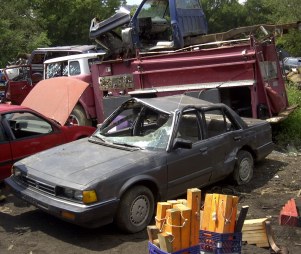 This gray Honda was the first car we practiced on. (Note the Seagrave pumper behind the Honda.)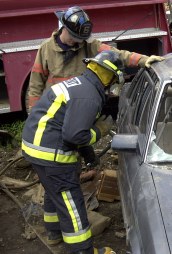 After cribbing the car and removing the glass, a purchase point is made to allow the tips of the Hurst tool to get it's first "bite".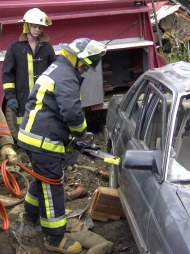 "Popping" the rear passenger side door using the Hurst tool.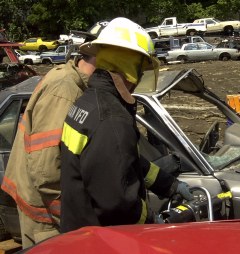 Followed by the front passenger side door.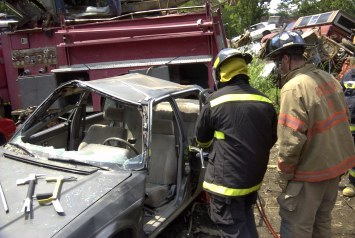 We did the same to the driver's side as well....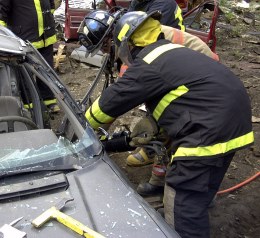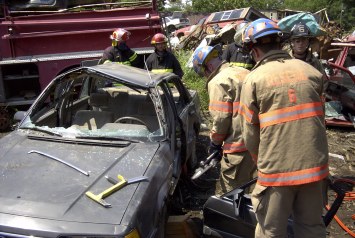 Removing the driver's door.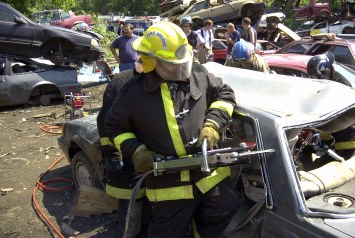 Then we cut the roof off before moving onto the next car.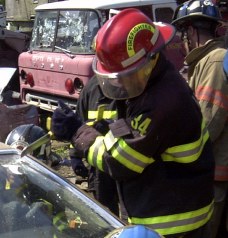 After cribbing the glass is removed. Here the "Glass Master" is being used on a windshield.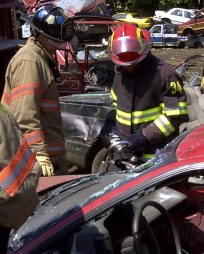 Cutting the "A" post.
The cuts have been made. Now we're getting set to "flap" the roof from the passenger's to the driver's side.
Next we made up a scenario and let the First Responders act as the rescuers and run the scene. Clifty Six fireifghters acted as the safety observers, another was the "victim" and another advised the team when they needed help. The Cadets acted as the medical person's helpers on the outside of the car.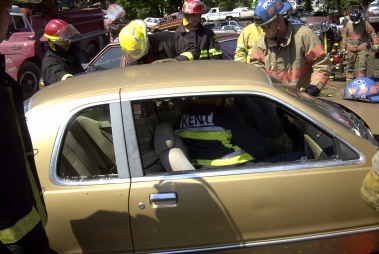 The scenario begins with an injuried drive and a First Responder treating him.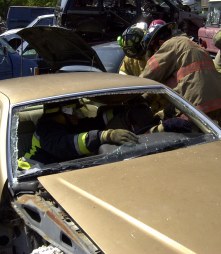 Removing the driver's side door.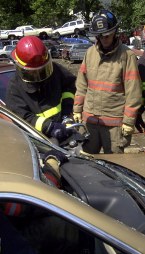 Removing the hinges from the door.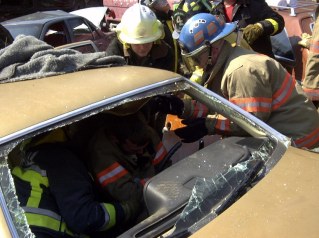 After gaining access to the patient and disentangling him, the team prepares to move him onto a backboard.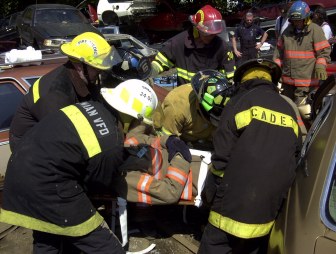 The team straps the victim to the backboard, immobilizing his head and neck.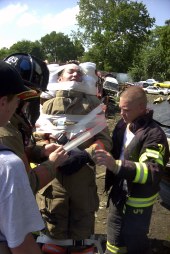 Standing the "patient" up to demonstrate that a properly immobilized patient shouldn't move on the board.
The last thing we did was explore techniques need for school bus extrication.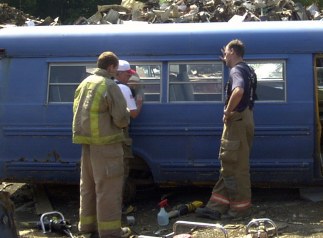 Seeking input and weighing options.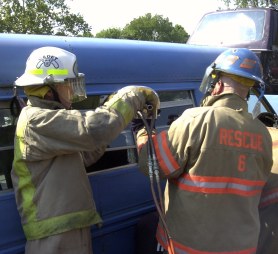 Cadet Chief Watterson and Advisor "Mongo" make an inital cut using the Hurst tool.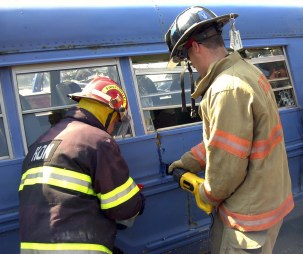 Advisor Hendrick takes the "rip" saw to the bus.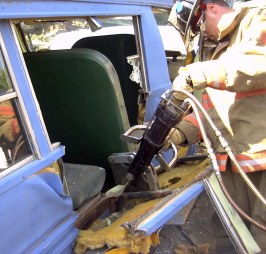 After bending the tip of the rip saw blade, Advisor Hendrick tries the Hurst cutters.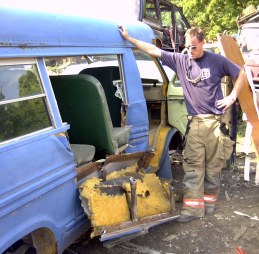 The finished experiment.
Our thanks to Bumper to Bumper for allowing us this opportunity!